Lochmandy Ford of Knox: Ford Fuel-Saving Tips
Are you frustrated by gas prices? Looking for ways to save money at the fuel pump? At our Ford dealership near South Bend, we're here to help you mitigate the effects of inflation with our fuel-saving tips. Not only do we provide a stress-free car-buying and -service experience, but our expert team can also give you a rundown of how to spend more time on Indiana roadways and less time at gas stations. The team at Lochmandy Ford of Knox will guide you through our tips and tricks, provide Ford maintenance essentials and much more so that you're prepared for the road ahead.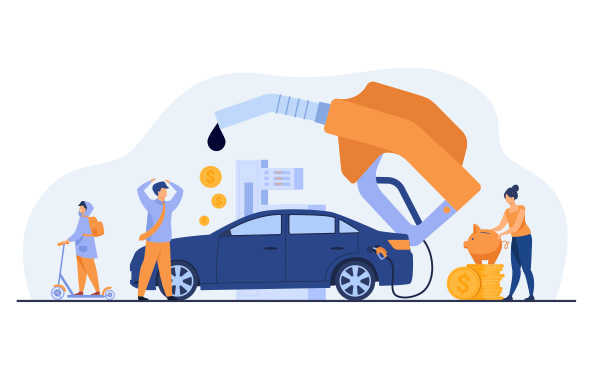 Fuel-Saving Advice in Indiana
Worry more about driving and less about gas prices with our Ford fuel-saving tips and tricks. Everyone is looking for ways to save money on fuel, and luckily for you, the knowledgeable team at our Knox Ford dealership has advice on how you can reduce the amount of gas you use. We're here to help you get the best possible fuel economy from your Ford F-150 or Explorer SUV. Just follow these simple steps and watch your Ford mpg ratings improve!
Keep up with Ford Engine Tune-Ups
The first tip is to stay on top of your Ford service intervals and engine health. If your check engine light is on, it's important to schedule Ford service as soon as possible. Regular tune-ups can save an average of 4% on your gas mileage. You should also keep up with routine oil changes, as they help your engine continue to run clean and improve its efficiency.
Make Sure Your Tires Are Inflated
Underinflated tires can cause your vehicle to work harder, thus worsening your car's fuel economy. We urge you to regularly check your tires pressure or bring your ride into our auto service center near South Bend for a tire rotation and inspection.
Drive at Lower Speeds & Don't Idle
Do you enjoy the roar of your Ford Mustang? Your need for speed can be a large cause of your car's high fuel consumption — the faster you drive, the more gas you consume. If you're driving on the highway, it's best to use the Ford cruise control option on your steering wheel to maintain a constant speed. Additionally, letting your car sit idle in a parking lot or driveway can decrease your Ford mpg ratings as well.
These are only a few suggested fuel-saving tips to improve your Ford Edge or F-150 fuel economy. For more information on how to save money at the pump, contact Lochmandy Ford of Knox. Are you tired of gas vehicles all together? Make sure to ask our Ford sales team about our lineup of new Ford EVs and go electric. No matter what question you have, our dedicated team is here to help!